Stable transparency around your creation - visible and secure.
We have solutions in many designs and dimensions or customized for you to the millimeter.
Some customers need an incentive to buy, they want to know what's inside! That's why crystal clear plastic packaging is very popular with consumers. The contents are visible and protected! Your customer immediately recognizes the freshness, the nobility and the uniqueness of the packaged product with crystal clear packaging. Transparent packaging raises the value of the packaged product and makes successful!
We offer transparent packaging in the following forms
Tins, clear round tin
Cubes in many different sizes
Carrying boxes
bars
Bags
Transparent packaging can also be foldable and is delivered flat - space-saving storage! With an additional cardboard insert, your product poses on a cardboard base and is encased in crystal clear.
Packaging with the character of a showcase: perfectly presented!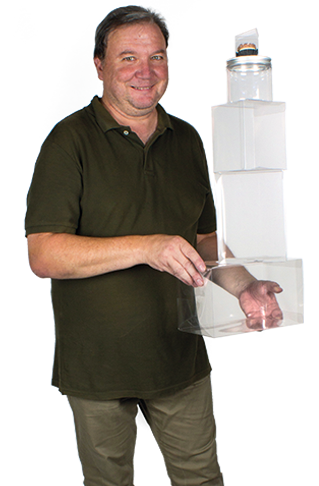 Unsere Klarsichtverpackungen, individuell und formschön, schaffen Platz und Schutz
und bringen Ihre außergewöhnlichen Produktideen ins Rampenlicht ohne sie zu verdecken!
Ab einer Auflage von 500 Stück fertigen wir Ihre individuelle
Klarsichtverpackung.
Ihre Produkte werden mit viel Liebe und Sorgfalt produziert und gestaltet, das sollen Ihre Kunden natürlich sehen. Daher ist eine transparente Verpackung optimal für schöne Marzipanfiguren, leckere Motivwürfel oder andere appetitliche Köstlichkeiten. So können Ihre Produkte nach der Produktion direkt in die Regale Ihrer Filialen und sind zusätzlich sicher verpackt.