The quickest and cheapest solution to personalize your product or put it in the spotlight seasonally. Sounds simple - it is!
Labels and tags are small, subtle messages on the packaging or the product itself. They contain information about the product or its intended use. They are, so to speak, a "Post-It" from the manufacturer to the customer. Also use the labels to quickly seal bags and packages.
Company logos, congratulations, manufacturing instructions or ingredients are described by labels on the product.
Labels are self-adhesive. Tags are attached by a ribbon or adhesive.
Our label dispenser is the right accessory for your labels. Due to its good stability and the hook-in separatorbar, it facilitates the removal of the labels.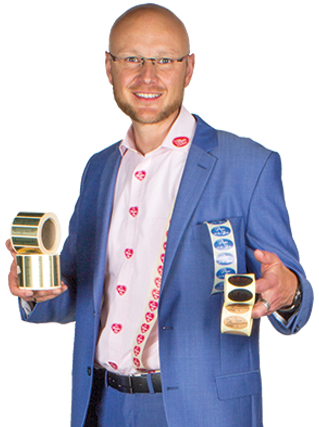 Custom size
Individual material - matt, glossy, transparent
Individual print up to 4c - positive or negative full-surface
Individual embossing - gold or silver
Label shape - round, oval, square, rounded corners, seal shape, special shape
On rolls with cardboard core - can be adjusted to your unwinding device
Special designs available from 3,000 pieces.
Special designs allow you to transfer your corporate design and corporate identity to labels and tags. This way you remain unique and characteristic!